Last Updated on April 9, 2021
Filmmakers say that film is an art of time and space without controversy and there's no need to further explain. And the court session and the investigation of the facts, are also pieces of time and space. When, where, what did someone do, and what consequences and effects did it have. Each piece of evidence is the equivalent of a cinematic narrative scene.

Jim Wang
Jim Wang's introduction and his works distributed by Orient Indie Films
As China's first lawyer and film director at the same time, Jim Wang managed to blend two identities that outsiders would have thought unrelated. "Directing is my hobby, and being a lawyer is my job," Wang explained. In the creation of film and television works, he would use the way of lawyers to think about problems. He fully utilizes his divergent thinking, combined with the pieces of life to find inspirations.
First Debate Saved a Mother's Life
Talking about his first experience as a lawyer, Wang thinks he was in "good luck". He used to work in the department of justice. At a meeting, the leader announced, "Now we are advocating reform, and several of us have obtained the qualification of lawyers, so we can set up a law firm." And Jim Wang happened to get a layer's license in that year.
When the law firm was first set up, when it faced with some difficult cases that might affect its reputation, the old lawyer would give them to the new lawyer to handle. As a new lawyer, Jim Wang took over his first case with great interest: a criminal case in which a mother killed her own son. The judge told him frankly that the evidence was solid and that the defendant herself had admitted killing her son. There was little room for defense. Wang felt that he was a new lawyer without any high status and would not have a big loss. So he was just thinking, why would a mother want to kill her only son?
This case took place in Xuyi, Jiangsu province, and Wang traveled all the way to the remote mountainous area to investigate. The mud from the mountains nearly destroyed the new lawyer's shoes. Finally through the investigation, he revealed the life story of an ordinary mother who was stubborn and worked hard but fell into despair. "There was a lot of crying in the public gallery, and the whole court, including the judge and the prosecutor, felt compassionate toward her," he said. The defense was so successful that the mother's life was saved. This case made Jim Wang gradually become famous in the local legal field.
An "Alternative" Student of Film School
On August 1, 1997, Jim Wang utilized lawyer's investigation method to help his good friend Zhang Ning solve the motorcycle theft case within 24 hours. This made Zhang think Wang was lucky, so he invited him to apply for the Beijing Film Academy together. Unexpectedly, both of them were admitted to the school as the two students from Jiangsu province that year.
The news that Jim Wang was admitted to the Beijing Film Academy caused a stir among local lawyers. "A lot of people didn't expect me to get in." Wang said with a smile. In school, the female teachers often regarded him as a "monster". Sometimes they would go to room 510 of the student apartment where he lived, to take a look at him and then leave with a secret smile on the face.
Until one time, Mr. Zhang Huijun, Wang's thesis supervisor and Dean of the academy, was giving a film course to students about a case study – the style of the American movie Natural Born Killers. During the break, in front of the class Zhang suddenly asked Wang with a smile: "The law is very rational, and the film is very emotional. Why does your brain not split?"
Jim Wang was happy to hear and then replied, "No wonder the teachers came to our dormitory to see me. In fact, movies and court sessions are the same thing. They are both the art of time and space. Filmmakers say that film is an art of time and space without controversy and there's no need to further explain. And the court session and the investigation of the facts, are also pieces of time and space. When, where, what did someone do, and what consequences and effects did it have. Each piece of evidence is the equivalent of a cinematic narrative scene."
After hearing Wang's answer, Zhang was satisfied with the "alternative" student's reply. He delivered this message to the faculty at the film academy meeting.
At the same time, Jim Wang also became the "king of stories" within the dormitory. His roommates request him to tell stories every night. And roommates who listened to his stories now become the industry's big shots. For example, Du Haibin, won the highest award in the field of Chinese documentaries.
After graduation, Zhang Ning, who got admission from the Beijing Film Academy with him at that time, went to the university of Nanjing to become a lecturer, while Wang became a "lawyer director".
Explore Human Nature through Films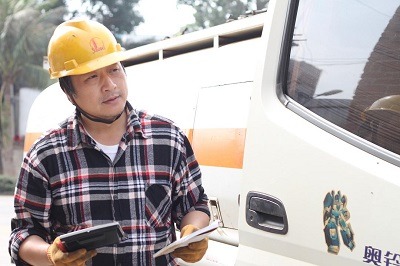 Journey to the South was the first film starring Jim Wang. At that time, he visited his friend who was a crew of this film and surprisingly became the leading actor. In the movie, Wang showed a driver's image from honest to depraved as the story moved on. He really acted out the accumulated emotions the role tried to hold back. In this way, people can realize the hardship and bitterness of this group in real life. "I did special research before playing this role. I observed and learned about the status and life of truck drivers in real life. Moreover, I recorded some details of them through a paintbrush, and then studied their movements and expressions," Wang said.
He also talked to truck drivers, listened to their stories, and absorbed these into the role. He wanted to play as close to that image as possible. Through this film and this role, people can understand the inner transformation of truck drivers through art. They can see the real survival state of this group at the same time. Later, this film became the only Chinese film shown at the 2013 Macao Literature Festival, and was the grand finale of the 11th China Independent Film Festival in November 2014. IQiyi also signed the exclusive right with Journey to the South, and the number of total clicks achieved more than one million.
Learn more about how local audiences think about issues presented in Journey to the South.
More behind the scenes and endorsements of Journey to the South.
Jim Wang's View on Film and Law
According to Jim Wang, movies and law are inherently related. Many of Hollywood's best films, such as The Shawshank Redemption, are based on legal stories. As a legal worker, he reads countless people in dealing with numerous incidents or cases. Therefore, he has great advantages in shaping and grasping roles. So in his free time, he wrote a script with the story of Tian Wenchang, one of China's most famous attorneys. It was recognized by experts from the Supreme People's Court and Procuratorate, and praised by professional film and television experts in the industry.
Now, despite his modest success as a director, screenwriter, producer and actor, he still finds it hard to let go of his love for the law. So in 2016, he set up the Beijing Zhongshi law firm with several partners. After the establishment of the law firm, Wang and his colleagues threw themselves into the cases together. Through a successful coordination of the dispute, one of his views was confirmed: "In Hollywood, there are many producers who are originally lawyers, so they successfully built a brilliant industrial empire. In China at this moment, there are hot money and liars around the once prosperous film and TV industry. Lawyers should be involved as much as we can, to help this industry remain healthy and grow steadily."
As a director, he hopes to become a unique clear stream of the legal field where film and law meet. As a lawyer, he believed that one should not only study law, but also gain a wide range of knowledge. Don't let legal knowledge become a thin existence itself.
Sources: Zhihe, andlvshi.com
Would you like to watch Journey to the South after reading this article? Subscribe now to watch Journey to the South online with 20% OFF! And stay notified about Asia-related insights & latest offers.